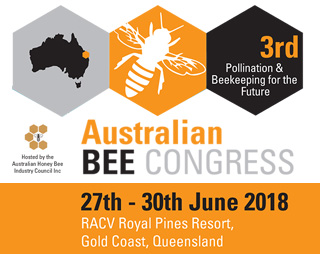 3rd Australian Bee Congress
Pollination and Beekeeping for the Future
The 3rd Australian Bee Congress was held at RACV Royal Pines Resort, Gold Coast, Queensland from the 27th – 30th June 2018. This was the first time an Australian congress had been held in 30 years. 917 delegates attended, with representatives from every state and territory, including Norfolk Island, as well as 17 other countries.
Over the course of the three day congress, 61 different speakers presented on a wide variety of topics around pollination, bee health and the global honey market. All presenters spoke to their research and experiences whilst stimulating thought for beekeeping into the future.
Over 70 key providers of beekeeping products and services, from Australia and overseas, were represented in the extensive indoor and outdoor trade show.
The congress was an outstanding success, with extremely positive feedback from those who attended. Many have said that it was the best congress they have ever attended!
There were over 200 entries in both the Honey Show and the Digital Photo Competition. Well done to all of the award winners!
Click here to view Honey Show Winners
Class 1 International
1st Place – Lindsay Bourke, Australian Honey Products
2nd Place – Casey Cooper
3rd Place – Simeon Valkenburg, Valkenburg Apiaries

Class 2 Manuka MGO Range 263-999
3rd Place – Robert Charles, Blue Hills Honey

Class 3 Manuka MGO Range 83-262
1st Place – Ugis Lauberts
2nd Place – Robert Charles, Blue Hills Honey
3rd Place – Lindsay Bourke, Australian Honey Products

Class 4 – Liquid Honey White
1st Place – Robert Charles, Blue Hills Honey
2nd Place – Daniel Hampel
3rd Place – Peter Norris, Heritage Honey

Class 5 – Liquid Honey Light Amber
1st Place – Lindsay Bourke, Australian Honey Products
2nd Place – Andrew McCallum, Raw Honey
3rd Place – Hedley Hoskinson

Class 6 – Liquid Honey Golden
1st Place – Daniel Hampel
2nd Place – Jeff Bourke, Australian Honey Products
3rd Place – Jim Gurski, JD & PA Gurski

Class 7 – Liquid Honey Dark
1st Place – Sam Lockwood, Lockwood Beekeeping Supplies
2nd Place – Mark Pillar, Pillar Bee Honey
3rd Place – Lyle Read, Gold Coast Amateur Beekeepers Society Inc

Class 8 – Creamed Honey
1st Place – Casey Cooper
2nd Place – Carl Cooper
3rd Place – Nikolai Faizoulline

Class 9 – Granulated Honey Fine Grain
1st Place – Hedley Hoskinson
2nd Place – Hedley Hoskinson
3rd Place – Peter Norris, Heritage Honey

Class 10 – Granulated Honey Coarse Grain
1st Place – Jim Gurski, JD & PA Gurski
2nd Place – Peter Sedgwick, Honeyworks Pty Ltd
3rd Place – Matt Colvin, APIS Industries

Class 11 – Comb in Liquid Honey
1st Place – Mark Pillar, Pillar Bee Honey
2nd Place – Graham Thornton, Honey Providore
3rd Place – Graham Thornton, Honey Providore

Class 12 – Pollen
1st Place – Len Verrenkamp, Bee-u-tiful Honey
2nd Place – Wayne Ridley, Ridley Bee Products
3rd Place – Jim Gurski, JD & PA Gurski

Class 13 – Cut Comb Selections
1st Place – Graham Thornton, Honey Providore

Class 14 – Beeswax White
1st Place – Mark Pillar, Pillar Bee Honey
2nd Place, Kathy Cummings
3rd Place – Ben Pan, Australian Natural Biotechnology Pty Ltd

Class 15 – Beeswax Yellow
1st Place – Robert Charles, Blue Hills Honey
2nd Place – Ricky Wells
3rd Place – Simeon Valkenburg, Valkenburg Apiaries

Class 16 – Beeswax
No entries met requirements as per schedule

Class 17 – Mead Sweet
1st Place – Lindsay Bourke, Australian Honey Products
2nd Place – Mark Pillar, Pillar Bee Honey
3rd Place – Yeonsoon Bourke, Australian Honey Products
Digital Photo Competition Winners
Click here to view Digital Photo Competition Winners
Open Category
Winner – Jenny Shanks
Runner Up – Darren Bainbridge
"Oh Bugger" Category
Winner – Allan Cotton
Runner Up – Danny Le Feuvre
Scenic Category
Winner – Ugis Lauberts
Runner Up – Steven Gell
People and Bees Category
Winner – Peter Boutelje
Runner Up – Lisa Razack
Close Up Category
Winner – Peter Boutelje
Runner Up – Jenny Shanks
Express Your Interest
Sign up to the mailing list to be kept informed of plans for the next Australian Bee Congress