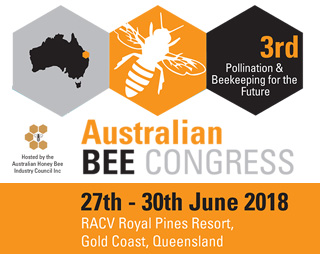 Program Outline
Correct at 20 June 2018, subject to change.

Officially endorsed as an Apimondia Pollination Symposium
Congress Registration
Technical Tours
Optional "High Tea"
Evening Welcome Drinks and "Meet the Guest Speakers"
Full day Congress, sessions will include:
Pollination – Helping Beekeepers and Growers Maximise Profits
Symposium on Pollination – How Beekeepers Provide Better Pollination Services
Managing Pesticide use in a Pollinator Friendly World
Bee Breeding and Genetics in the Area of Genomics
Symposium on Pesticide Management. The Latest Risks and how Beekeepers can Best Navigate Them
Symposium on Bee Breeding
Connecting Young Beekeepers session
Trade Show Evening Function
Full day Congress, sessions will include:
Biosecurity Lessons for the Future-Apis Cerana and Varroa
How can we Design Agricultural Landscapes to Maximise Pollinator Efficacy?
Symposium: Biosecurity and Exotic Pest Threats for Australia's Pollination Supply
Symposium: Pollination for Profith – how this Program is Positioning Australia's Bees for Growth in Agriculture
Honey Bee Nutrition. Building Fantastic Colonies for Honey and Pollination
Honey Bee Viruses and how to Stop Them
Symposium: Optimising Bee Nutrition for Better Pollination with an eye on Risk
Symposium: Honey Bee Viruses
Congress Dinner
Full day Congress (finishing at Afternoon Tea), sessions will include:
Breaking the Sting Barrier: Conservation and Sustainable Use of Stingless Bees
Urban Beekeeping in Australia-Untapping the Resource
Global Honey Trade and its Impact on the Future of Pollination
Symposium: Pollination from the Growers Perspective
What is the Optimal Size of the Beekeeping Industry in Australia?
Symposium: The Pollination Contribution of Stingless Bees. What are the Key Impediments to Developing a Successful Industry?