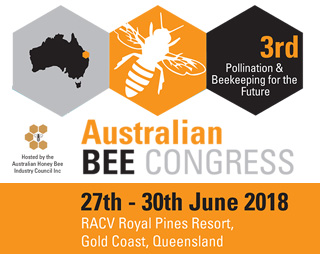 The Australasian Beekeeper Digital Photo Competition

The photography competition will be held at the Australian Bee Congress in June 2018. It not only provides some light entertainment and skills of the photographer but it provides us an insight into the everyday life of a beekeeper, the good, the bad and the ugly……
The competition will be run online with pictures posted to the 3rd Australian Bee Congress Facebook page and displayed at the congress dinner on Friday 29th June 2018. Only digital entries will be accepted, please send your name and category with your entries to jayne@eastcoastconferences.com.au
The competition is open to all attendees of the congress.
The judging process will take place on the second day of the Congress (Friday June 29th) and the winners will be announced at the Congress Dinner on the same day. The judging process will involve a 50% vote from a representative from Jarrah Publishing and 50% vote as peer reviewed with the most 'likes' on the Facebook posts. The congress chair, Ben Hooper, will have the casting vote if required.
There will be five categories of the digital photographic competition:
Close up– bees up close, bees and flora, in the hive (honeycombs, brood combs, pests and diseases, manipulation techniques).
Scenic– moving hives, hives in the landscape, decorated hives and swarms.
People and Bees– beekeepers and their hives
Open– storyboard and edited photos
Oh Bugger– any bee, honey or loading disasters, sting reactions etc.
For each category entrants may not enter more than two entries.
The same photo cannot be entered into 2 different categories.
Submitted photos will be accepted for the competition on the understanding that they have been taken (and, if necessary, manipulated) by the entrant.
Entries will be judged on the second day of congress (Friday 29th June).
Judging will be a 50% vote from Jarrah printing and 50% Facebook votes.
Entries are to be submitted as an email attachment to jayne@eastcoastconferencs.com.au on or before Monday June 25th 2018
The entrant's name and the category of the attached photo(s) should be included in the subject of the email.
Each digital photo should be submitted in jpeg format and should not exceed 3MB in size with an image size of at least 2000px by 1500px (for landscape orientation), or 1500px by 2000px for portrait orientation). A single email (with its attachments) should not exceed 10MB in size.
Receipt of entries will be acknowledged.
Except during the judging process and slideshow, entries will not be distributed to other persons or published in any format without the permission of the entrant.
Each category winner will have their photo printed as an 11 inch x 14 inch metal print from Jarrah publishing. The runner up will receive an 8 inch X 10 inch metal print from Jarrah publishing.